Working of concrete batching plant
Five primary functions
Working principle of concrete batching plant is dependent on five primary functions as below:
Aggregate feeding – Aggregates and sand have to be fed into the individual feeder bins.
Powder feeding – Powder here refers to cement, fly ash and additives. These are important components for binding of material.
Water – Water will help cement bind evenly with aggregates. Specific quantity of water is must for any ready mix.
Storage and conveyance – Storage and conveyance here refer to storage of cement, fly ash, etc. They have to hold up quantity in bulk and transfer small quantity by screw conveyor to the weighing hoppers.
Control system – Control system is very critical for any advanced machine. It makes operation fast and accurate.
Process flow
First, process flow of concrete batching plant will start from the feeding of aggregates into individual bins. Aggregates classified by size must be placed in separate bins.These aggregates will be weighed individually according to the design settings in the control panel.
Second,after weighing they will be transferred to the mixing unit. Above the mixing unit there are weigh hoppers for cement, additive and water. The job of the weigh hopper is to weigh and then transfer the contents into the mixing unit below. Cement is transferred to the weigh hopper by means of screw conveyor. In the same time, water is pumped up into the weigh hopper.
Third, after mixing for a specific time as set in the mixing unit, the mixer will discharge the contents into transit mixer or a concrete pump.
All the above processes are carried out carefully and systematically. Each process is carried out for a specific time frame. This is mainly decided by the control system.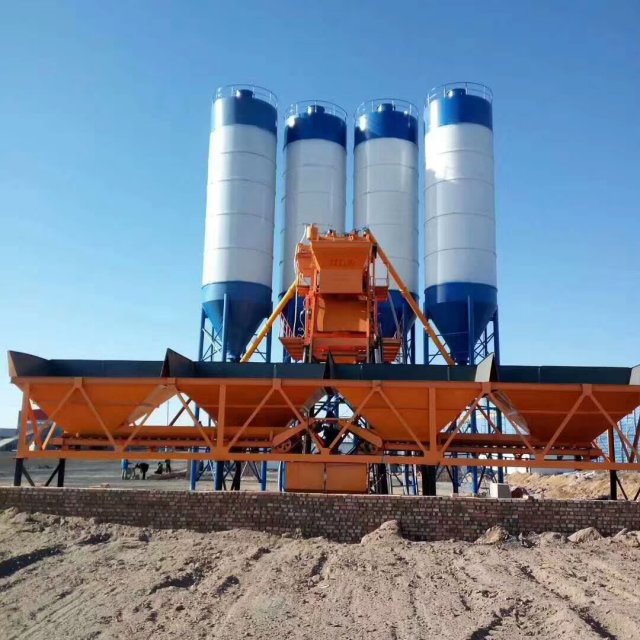 TRUSEEN has a wide range of Stationary Concrete Batching Plants which have production capacity from 25 m³/h to 180 m³/h of one mixer. If you are interested in our products, please contact us. And warmly welcome you come to China to visit our factory and have a meeting face to face. Our contact information is as follows.
Tel: 0086-371-86238892 | +86 15617732826
Email:[email protected]
Add:Zhengzhou High-tech Industrial Development Zone, Henan Province, P.R.China